Little Rooster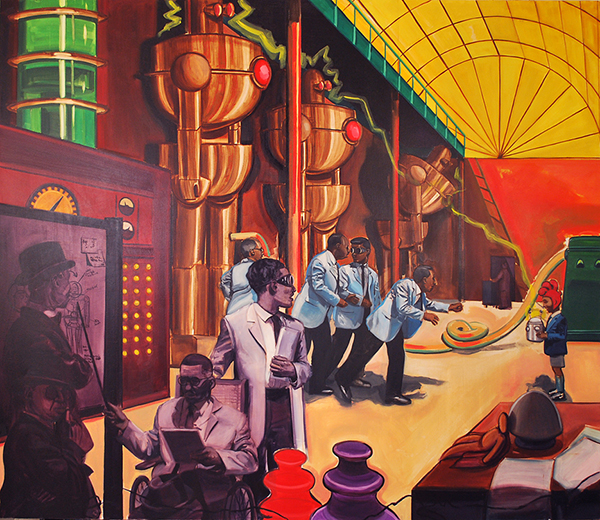 Paintings by James Williams II
Text by Lisa Preston
Little Rooster, a series of oil paintings by James Williams II, tells the story of a young boy who lives a seemingly idyllic life in the United States during the 1930s. The boy has a loving mother and a wealthy scientist father who direct all aspects of his life. When adversaries of the family are introduced into the story, the boy is assigned a bodyguard, the ultracool and courageous Red Rooster, who possesses strengths the boy doesn't see in his own father. As the boy's admiration for Red grows and their relationship deepens, the boy adopts the name "Little Rooster." Eventually, despite his longing to remain a child, events force him to confront the burdens of adulthood, including the life-changing decision to continue Red's heroic legacy on his own.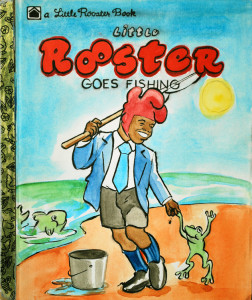 The idea for Little Rooster came to Williams about a year ago, in a dream so vivid he began to write down the details. Williams was listening to a lot of blues music and the name for his Little Rooster character was inspired by Sam Cooke's version of the Howlin' Wolf song of the same name. Williams was also particularly moved by the lyrics of Gershwin's "Summertime," a melancholy testament to parents' loving protection of a child who will someday leave them:
One of these mornings
You're going to rise up singing
Then you'll spread your wings
And you'll take to the sky
But until that morning
There's a'nothing can harm you
With your daddy and mammy standing by
The work dramatizes many scenarios from the artist's childhood while also tackling broader concepts that resonate with us all: how we define right and wrong and how we make life decisions.
Williams feels that while adults often see the world as gray and monotonous, children visualize color and endless possibilities. He illustrates his epic story with bright color palettes and stylized figures that reference vintage comic books and the moral lessons of children's books. Marrying the lexicon of pop culture with his more painterly sensibilities, which are informed by more "high art" sources such as John Singer Sargent, Williams is on path toward mastering the formal aspects of his craft.
For Williams, painting presents a challenge that is deeply rewarding. He first started using watercolors, then acrylics, and eventually oil. His peers observe Williams as contemplative, almost exacting in his work. "I take pride and pleasure in building the frame, stretching the canvas," he explains. "I think in layers, so it comes natural to work in oil. Oil presents many possibilities—you can mix it with other media to create many different mixtures and textures."
Similarly, Williams does not feel bound to present the Little Rooster story in strict sequence. If he needs to skip a few moments to create another moment he can. His job as artist is simply to identify the relationships between the characters. Observant of the oral tradition of the blues music that originally inspired his story, Williams is open to audiences interpreting elements of the Little Rooster story differently than he may have conceived them and discussing their own versions. "I have made my story, so someone can take something out of that and make their story. What doesn't change is Little Rooster himself."
—
James Williams II holds an MFA from the Maryland Institute College of Arts and a B.S. from The State University of New York College at Cortland. He is a recipient of the 2009 MICA Bromo Seltzer Award and the 2009 MFA Joan Mitchell Foundation Award, and was awarded the Tom Miller Scholarship and the Mount Royal Scholarship at Maryland Institute of Arts. Little Rooster has been shown at IAM Gallery in New York City. Williams' work has also been exhibited at Onondaga Community College in Syracuse and RTLK Architecture Gallery in Baltimore.